Beachcomber Mark I (October 1961)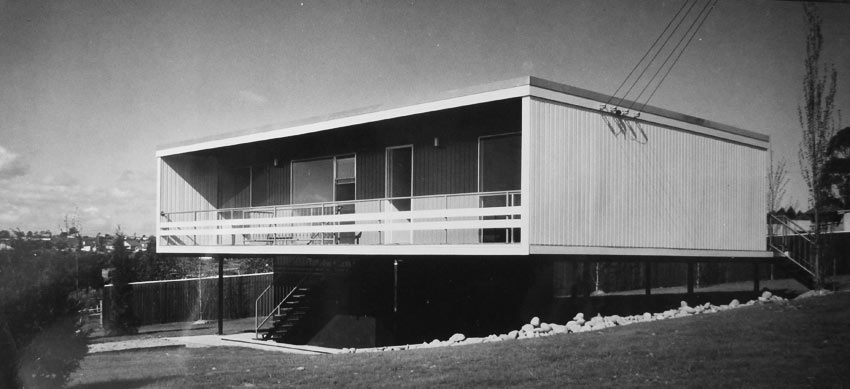 This very first Beachcomber was built as part of the original Lend Lease Project Homes Village of five homes. The house still stands in Carlingford. This version was also promoted at the Carlingford Homes Fair in May 1962, with a second Mark I (with reversed floor-plan) built a few months later in Balmoral Place.  It was not for sale, rather it was offered by Lend Lease as first prize in the Polio Art Union No. 3, as part of the marketing buzz around the Fair.  Sadly, we can't find it now – it seems to have been replaced.
In promoting the Homes Fair, the Daily Telegraph of May 11 1962 (page 38) had this to say about the Beachcomber:
Home No. 19:
The contemporary "Beachcomber" which already has been built for many permanent dwellers as well as holidaymakers.
Its color scheme is startling – chartreuse, dark blue, white and shrimp pink inside walls. Cocoa brown kitchen, varnished wood ceiling and black beams.  The only conventional rooms seem to be the bathroom, toilet and one bedroom which is all white.  Entrance to the top level is by front or rear wooden staircases and verandahs which give the house its holiday look.
This is an "ultra" house for modern minded people.
Features of Mark I
linen cupboard near third bedroom, facing hallway towards kitchen
outside lamps on front walls of sundeck
separate bathroom and toilet
separate shower and bath in upstairs bathroom
single front door
sliding glass pass-through from kitchen to living room
sundeck balustrade with two horizontal panels
timber-framed windows
timber cladding
timber ceiling
no highlight (clerestory) windows
thirteen roof beams
three square windows for the bathroom/toilet