Home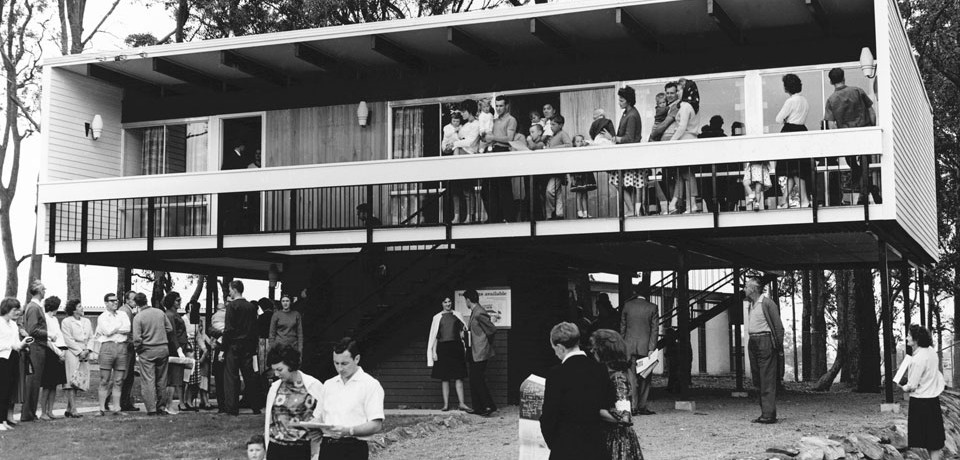 In October 1961, the Lend Lease Homes demonstration village at Carlingford in Sydney offered for sale the Beachcomber, as one of a selection of five project homes.  Already the wild child of the bunch, its angular lines, bold use of floor-to-ceiling glass and lightweight materials were a vast shift from conventional housing of the time.
Designed by Lend Lease chief architect Nino Sydney, the Beachcomber was an affordable project home with Bauhaus attitude.
Beachcombers sit lightly on the land.  Mostly supported by steel posts, they were very adaptable for three-quarter sloping blocks.  This was appealing for many Sydney buyers, even those with no particular interest in modernism.
Happily, Beachcombers are easy to live in. Although by today's standards they are small, they fitted well with the more modest aspirations of the 1960s.
Around 200 Beachcombers were built in Sydney from 1961 to 1970, and others are sprinkled around New South Wales, the ACT and Victoria. This website celebrates an affordable architect designed house that invited people to both build and live differently.
Over the past 50 years many Beachcombers have moved with changing times and needs. Many Beachcombers have been imaginatively reinvented, while others exude their original retro style.
If you are contemplating a transformation of your own Beachcomber, we hope this will give you courage and ideas.
After living in a Beachcomber for nearly 20 years, we still find them inspiring, and hope you do too.  We welcome comments and contributions.