Heritage Award for Website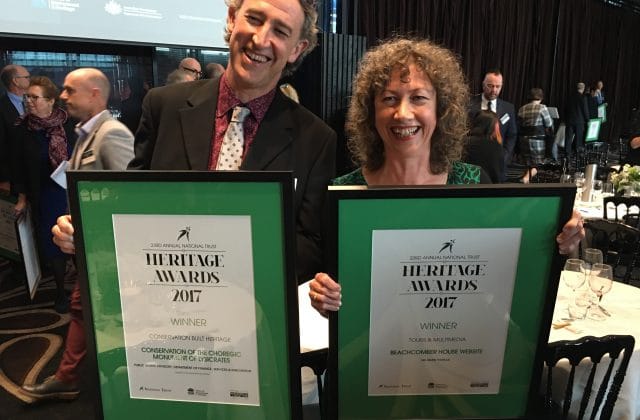 In April 2017 the National Trust awarded the Beachcomber House website its Heritage Award for Tours and Multimedia. From the judges;
The project is a website devoted to documenting and conserving a significant expression of Australian mid-century modernism: the Lend Lease Beachcomber project home. www.beachcomberhouse.com.au is a community hub for residents, historians, journalists, architects and enthusiasts, and before the development of the website, this slice of architectural history was largely overlooked.
The awards lunch was a great event, and it was doubly pleasing to join my brother Paul on the podium, with his own award for quite a different kind of Heritage Award. Here's to conserving the Good Stuff! You can read more about the Beachcomber Website award here. Thanks to many many people for assisting in providing content for the website, especially Nino and Maya Sydney, Stephen Batey, Chris Osborne and David Parker.
Following the event Lend Lease profiled the story online, and Pittwater Life magazine published an article in its August 2017 issue.