Swinging Safari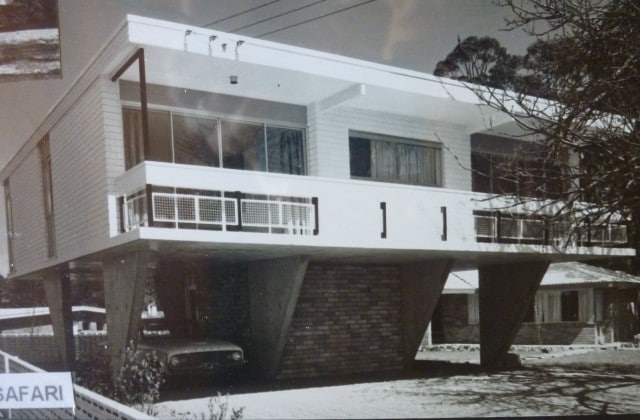 The Safari is the concrete cousin of the Beachcomber (circa 1964). Nino explains that in some local council areas the Beachcomber was considered too insubstantial for existing building codes, so he designed a sturdier model in brick and concrete.
"This design was not as popular as the Beachcomber, largely because it cost 20% more  than the lightweight alternative. Localities where the Safari was preferred include parts of Sydney's North Shore and Wollongong's beachside suburbs."
Features include:
angled concrete supports on a concrete platform
full length sundeck open at the sides
windows in the side panels of the house
two roof beams
brick external walls
Several well-maintained Safaris can still be found around Sydney, including Balgowlah Heights, Castle Cove, East Lindfield, East Ryde, Hunters Hill, Middle Cove and Turramurra. Further south you might find one in Frankston South (VIC), Mount Eliza (VIC) and Mount Ousley. The fate of this one in Warilla has been debated over the past few years, but at last check, it still looked hale and hearty in a great location right on the beach.