Bauhaus birthday cake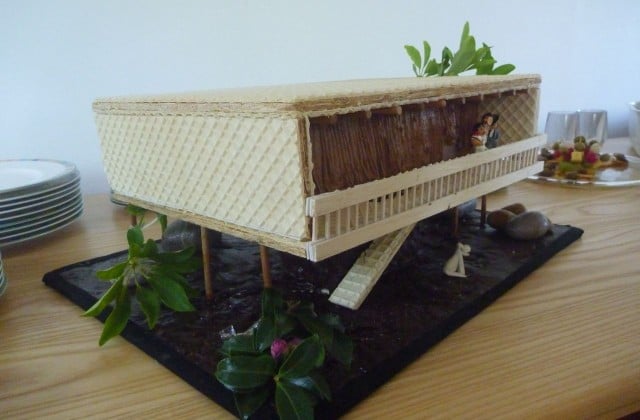 Though Nino is responsible for designing the Beachcomber, his wife Vera is a cake-itect extraordinaire. Not only did she design (in  true to scale proportions), this elegant birthday cake for the 50th birthday of Helen and David's Avalon Beachcomber, she also constructed it with innovative materials including wafers, plywood and balsa-wood. Vera delighted everyone at the second annual Beachcomber BBQ with both the form and  function of her concealed chocolate, almond and hazelnut torte. Appropriate to the occasion, it was a Mark II, with ten ceiling beams (shaslik sticks).
On Anzac Day 2013 Beachcomber fans gathered from near and far – Brisbane and Newcastle, Faulconbridge and Balgownie – to share a sunny afternoon catching up with Nino and his family. There was much swapping of renovation advice, as well as whispered sightings of yet uncatalogued Beachcombers. Billy and Sarah rolled down from the Blue Mountains in a 1963 Chevy that matched the vintage of the birthday house.