By the Sea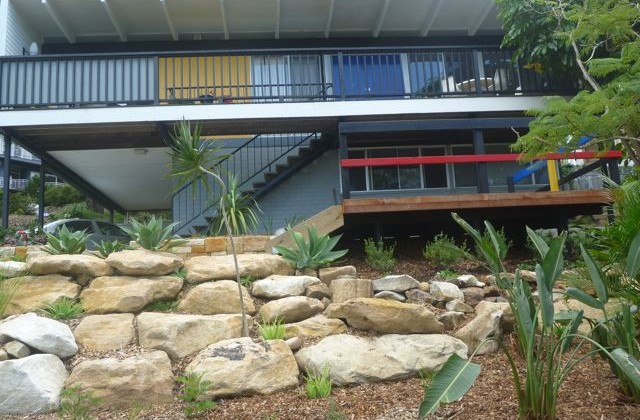 Location:
Avalon Beach NSW
Vintage:
Mark II, constructed 1963
History:
Built as a retirement home for a Sydney couple.
Modifications:
Minimal.  Wallpaper removed, updated kitchen and bathroom, kitchen opened out into living room (the servery which was introduced in later versions).  Primary colours introduced to panels and doors. Deck railing replaced.
The Beachcomber Experience:
"We've been in our Beachcomber since 1995, and love how the front of the house is largely glass, making the home very light. The house is oriented to the easterly aspect, which gives a great view over the valley to the ocean. The high glass panels between the roof beams draw light in, out and through. Other things we enjoy are the generous sundeck, the original outside lamps  and the downstairs beach shower. It's not a large house, but the flexible space beneath the main house has been used in different ways over the years, from office to rumpus to music studio."
Helen and David  
Read more about the adventures of this Beachcomber here and here.